Hi everyone, I have very exciting news to share with you!! We've been
nominated
by Stephanie (who writes a
fabulous blog
herself and came to meet us in the hub not too long ago) for the Best Class Blog in the EduBlog Awards!!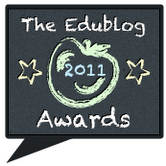 This is very exciting for us and down to all of your hard work (not that it's been work!) and focus - many of you have shown great determination in making our blog something we're all very proud of and should be congratulated!!
Well done Learning Hub 3, I'm very proud of you :D
Who do you think we might nominate? Have a look at
the Edublog Awards Blog
to see the different nomination areas - let's spread the love!