The learners in LH3 have been focusing on creating their own next steps, especially in writing. We know that even the best piece of writing can probably be made better (though each person has their own preferences so what's amazing to one reader, might not spin another's wheels) so have been trying hard to critique our own work and look for specifics to improve.
We were aiming for a short piece of writing that would include the figurative language devices that we've been exploring. This time we had to include something to do with a pirate ship just to make things a little more tricky!
Here are a few for you to enjoy (the rest are on KnowledgeNET and up on our wall):
The ship was fighting against the wind and sea, that's spread across the sea like butter on bread. The clouds, spat on my bare face, as I hopelessly cleaned the deck of the tornado. The dark, dodgy dungeon had planks as old as the earth and a dark flag buried deep in rain water. The ship was so big I felt like plankton against the Atlantic Ocean. Then I stopped, stared at the frozen overlapping waves and heard a calm voice that echoed" Please lift your seat-belts and get off at the exit that is located at your right."
By Hana
I was in the rough sea, the waves were roaring like a pride of angry lions. The wind was extremely powerful that was forcing our boat to fly over the seas. Then out of in the frothy white fog I saw a boat. It was scary, mighty and huge. I told Joey, the main pirate, to get a flare before the other ship came and created the biggest crash in history. The ship is coming towards us. It has a mean captain with one eye, wrinkles all over his face, with a pitch black eye patch. He is pure gold! If I catch him I'll be the baddest, biggest, best pirate. "I can scare everyone hahahahahaha!" I yelled "Charge!" and then... BOOM
By Finn
The wickedly wild ship was rocking rapidly side to side. The scary sharks were bashing the wild westie ship with their rock solid teeth. The clouds were dropping rocks on my bare battled face. As I fell to the ground helplessly hoping to wake up from this terrifying dream I was in. As I forced open my swollen sleepy eyes I could see myself sitting at the top of the pirate ship.
By Courtney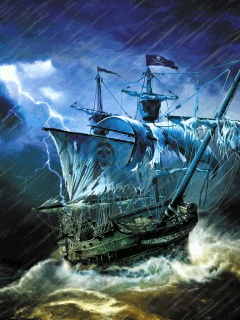 We were also given the task of displaying our writing in the hub - we put our heads together and decided upon a pirate ship... here are some photos of us planning, organising and making it!
Figurative Writing on PhotoPeach