Voting has started for the edublog awards!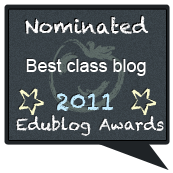 Jump online
here
and choose 'best class blog' from the drop-down menu and then 'Learning Hub 3 Year 5 to 8'... you can vote everyday so get voting! If you have friends and family, why not send them this link and the instructions but choosing the little envelope/email option below.
It was so special just to be mentioned but let's give this our best shot. We're proud of our blog, let's see if other people are too!!

Good luck to us and all of the other blogs that we enjoy reading - remember you can vote for them too if they're in the running for a different category.